Dr. Ryerson receiving thanks for his paper on the Kim framework for geospatial data policy development given in Hong Kong in 2005. We have applied this framework in several countries - and look forward to doing more such work!
---

Field work in Napa California related to commercialization of airborne remote sensing for the wine industry. Our approach to commercialization has been developed in line with the most recent principles from some of the world's best business schools involved in technology.
---

This famous Landsat image of the Canada US border symbolizes the many cross-border and international studies we have done on the geospatial industry. It also shows the substantial differences that were found.
---
This is the cover of the publication we wrote on contract for the FAO on geo-information and Agricultural Development. Contact us for further information - or to have a specialized report written on your subject area by our expert team.
---

Dr. Ryerson attended and presented at a 2007 Seminar on Remote Sensing and radar Applications in Water Resources Management held in Cairo. He represented client Vantage Point International.
---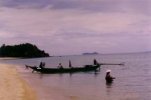 We carried out an assessment of the worldwide need for remote sensing technology for coastal resource management. This image was taken at the shoreline of Koh Samui, Thailand.
---

This image of tropical forest cover looking up from the ground was taken near Kuala Lumpur where we have attended several conferences and workshops related to data policy, commercialization and the use of remote sensing in development. (Photo by Ann Blair)
---
This interesting image of coastal waters and aquaculture was acquired by the Geo Informatics and Space Technology Development Agency (GISTDA) of Thailand, one of our long-time clients. GISTDA and Thailand's data policies have seen Thailand become one of the most successful beneficiaries of earth observation space technology in the world.
---

This is a picture taken at GISTDA Headquarters in Bangkok where we helped develop a workshop on data policy that confirmed the validity of Thailand's approach to image access.
---

Ground Photo and Airborne Radar Data near Nakuru, Kenya. This image of acacia trees near Nakuru, Kenya illustrates the complex tree structure found in many tropical regions which lead to very bright returns in radar imagery, seen in the image to the right.

---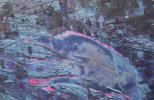 This image, provided by Dr. Bob Gauthier of the Canada Centre for Remote Sensing, is a multipolarized airborne radar image of Mare Bleu near Ottawa - a Ramsar-designated wetland that was subject of work we did with Vexcel Canada for the European Space Agency.
---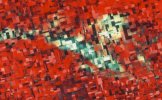 This enhanced Landsat MSS image shows tornado damage to cropland in Manitoba, as well as areas affected by high rainfall (darker areas to the south of the major tornado scar. We have worked on several studies related to the use of remote sensing for disaster mitigation and management.